Bridge over Golden Horn in Vladivostok, Russia
Project description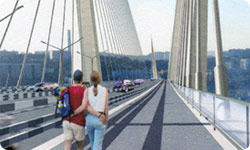 The Bridge over golden Horn bay is one of projects that should be constructed in coming years as the part of preparation activities for APEC 2012 meeting in vladivostok.
The bridge itself is 1388,92 m long and is designed as a cable-stayed bridge with two pylons and spans of 329.98 – 737.00 – 321.94 m.
It should be oconstructed in a seismically very sensitive area with a strong wind influence. The bridge deck is designed for carrying 2×2 traffic lanes and 2 more than 4m wide pedestrian lanes on sides of the cross section.
The part of the bridge in the middle span is to be constructed as a steel box girder and adjacent spans in outer spans are to be constructed as continuous presstressed concrete box girder.
Services provided
optimisation of structural bridge parts
risk and cost estimation
quantity evaluation
investigation of price level on the international market
Period of work
3/2008 — 5/2008