Halic metro bridge over Golden Horn, Istanbul, Turkey
Project description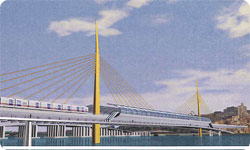 The metro bridge Halic is the part of the metro line extension in the city of Istanbul. The section between Unkapani and Taksim will include 2520 m line with 2 stations and the new metro bridge over Golden Horn.
The bridge has the main cable stayed part with spans 45-45-180-45-45 m, two pylons, movable swing bridge on one side and approching bridge parts.
Beside approach bridges that are made of concrete, the main crossing over the Golden Horn will be constructed in steel: piles, pylons, piers, deck of cable stayed bridge, mobile bridge and footbridge.
Services provided
optimisation of structural bridge parts
risk and cost estimation
quantity evaluation
investigation of price level on the international market
Period of work
2/2008 — 3/2008